Beautifully Maintained Homes by Diamon-Fusion®
It has been calculated and reported that the single largest investment the average American will ever make is the purchase of their own home....some more than others.
In order to keep their property looking as new as it did the day it was purchased it, every homeowner will set out on some course of maintenance. Some will choose, what may be perceived as the expensive route, and have their surfaces treated and protected by the Diamon-Fusion® nanotechnology. While others will choose a route that seems to be inexpensive, for the moment, and neglect to protect with Diamon-Fusion® or fail to maintain the regular cleaning schedule necessary to keep surfaces looking like they did when they were new.
Over time, when calculating the restoration or replacement costs for surfaces damaged by long term hard water stain accumulation, the cost is far less, and more enjoyable too, to coat the surface with the Diamon-Fusion® than the other option of neglect.
Toilets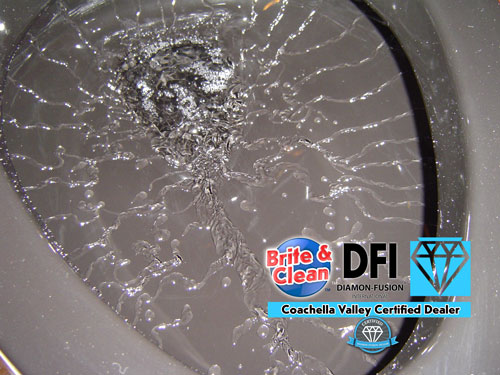 In the bathroom, one of the surfaces that really takes a beating is the toilet bowls. The glass & porcelain sinks also get their fair share of wear and tear too, making Diamon-Fusion® a great investment.
Sinks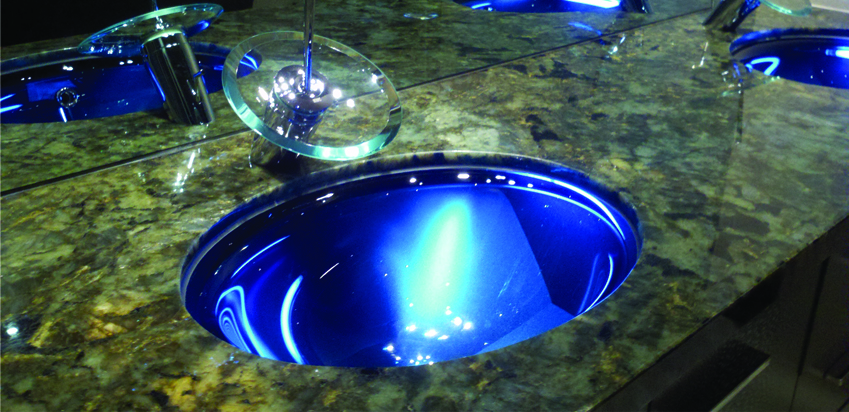 A part of the sink or shower, Chrome & Metal Fixtures will benefit from the 2nd stage "capping" of the coating process, and if need before application of the protective coating, metal restoration can be performed to return water damaged metal back to a beautiful shiney or reflective surface.
Metal Fixtures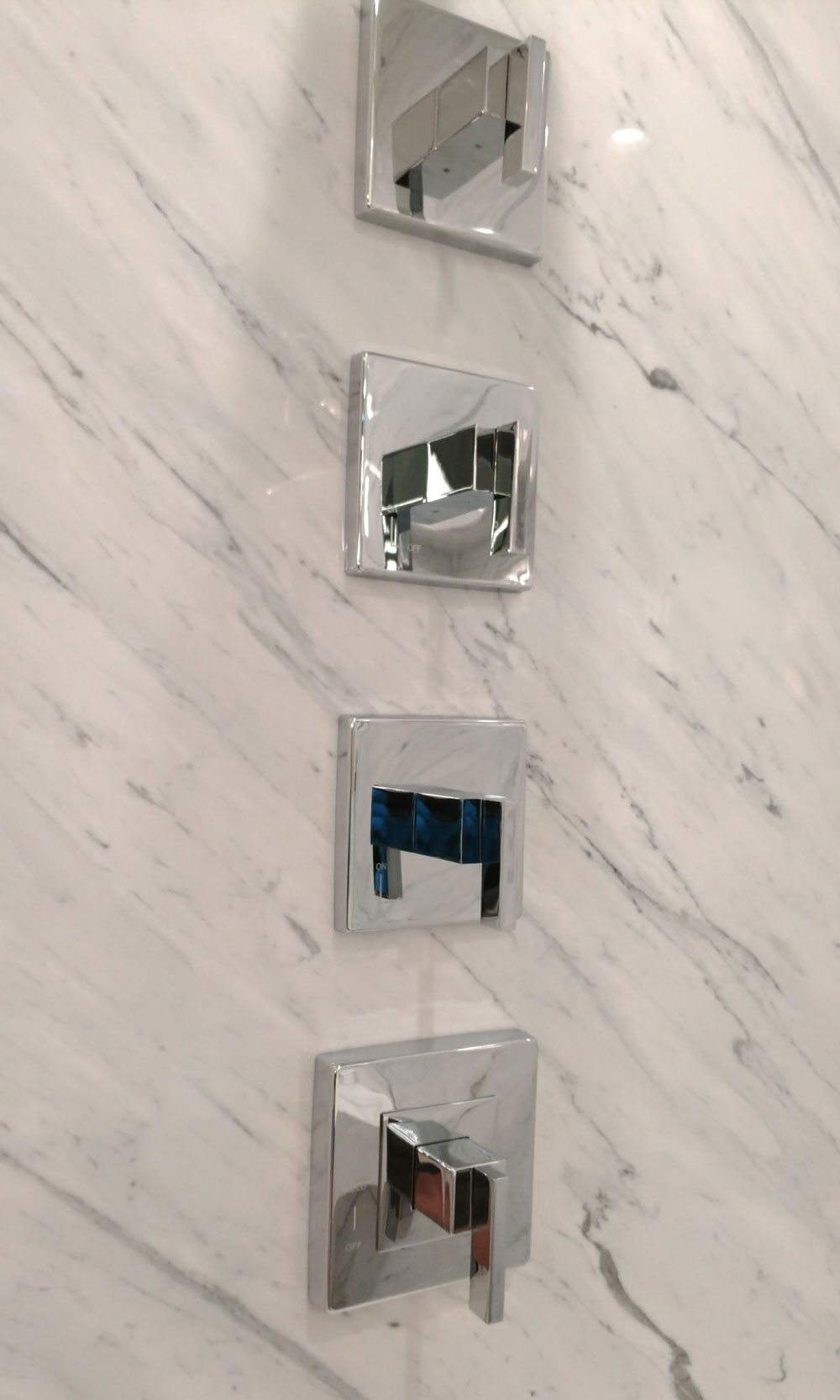 The most problematic surface, and probably the cause of more bathroom arguments, may be the shower door enclosures. Diamon-Fusion® helps create a low-maintenance surface that requires less time and effort to keep looking clear and clean.
Shower Doors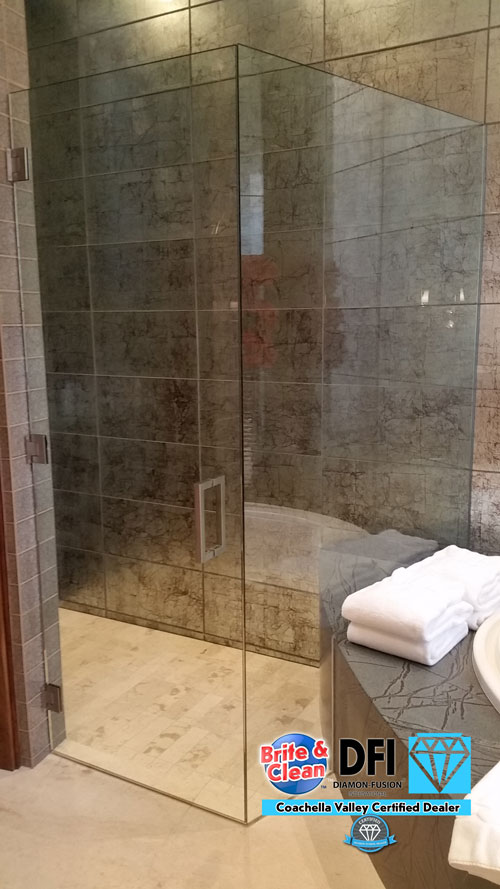 Another unique and patented process for shower doors, created by the Diamon-Fusion® coating is called Invisible Art Glass™. This glass is clear when dry and then, during a shower, the steam and water vapor causes an artistic design or logo to actually appear in the glass. The art simply disappears within a few minutes after showering is complete.
Invisible Art Showers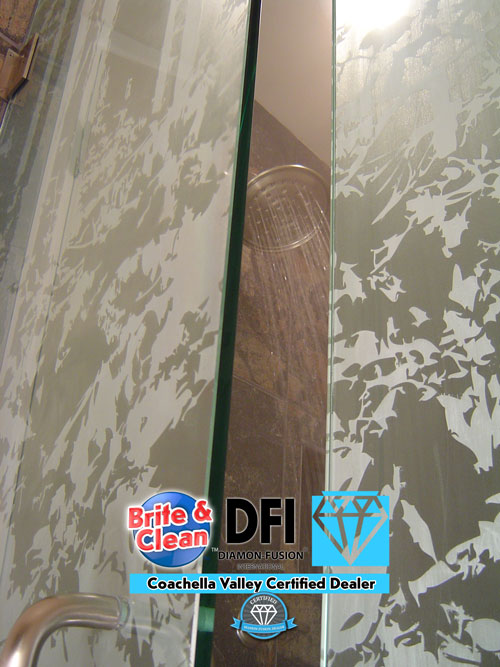 The shower is often designed and built with porcelain & glass tile that can show spotting if not protected.
Glass & Porcelain Tile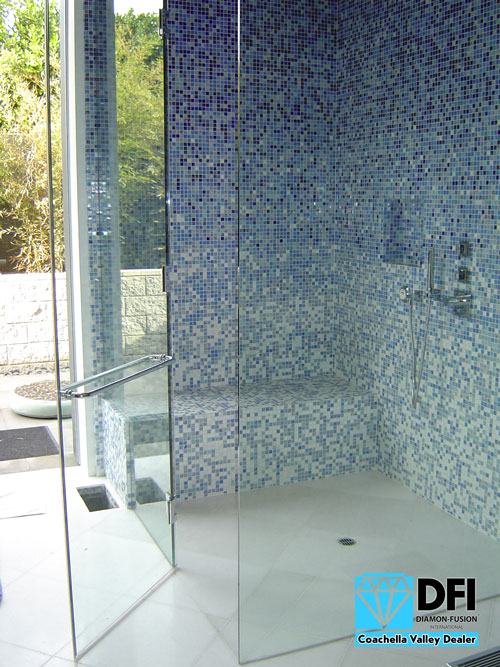 The mirrors over the bathroom sink get water, soap and tooth paste splatters and are simple to keep streak-free with only a microfiber towel.
Mirrors
Skylights by design, are frequently positioned in a horizontal or diagonal position, causing dust to more easily collect and soil the surface. Diamon-Fusion®'s incredible dust shedding properties help the glass surfaces to stay cleaner longer and make clean-up easier.
Skylights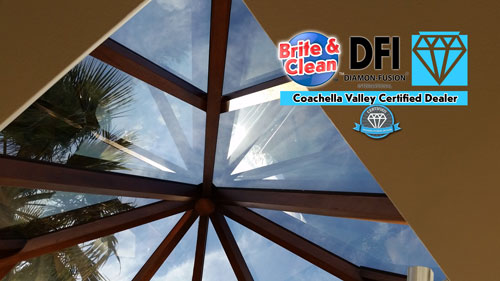 The largest area around the home or office that can benefit from the Diamon-Fusion® are the windows. From water repellency to the dust shedding properties, many customers have reported a reduction in maintenace time and costs due to the low-maintenance attributes...it literally can help pay for itself.
Windows
Speaking of paying for itself and then some, the Diamon-Fusion® when applied to solar panels really makes sense...dollars and cents. Because of the improvements in the "revovery rate" a simple rinse with water can be 2x more effective than rinsing an ordinary photovoltaic solar panel.
Properties that have beautiful views often have strong blowing winds whos effects are minimized by clear glass handrails which reduce the breeze. These wind screens and glass walls are often difficult to access and require a low-maintenance coating like Diamon-Fusion® to reduce cleaning frequency and difficulty.
Glass Handrails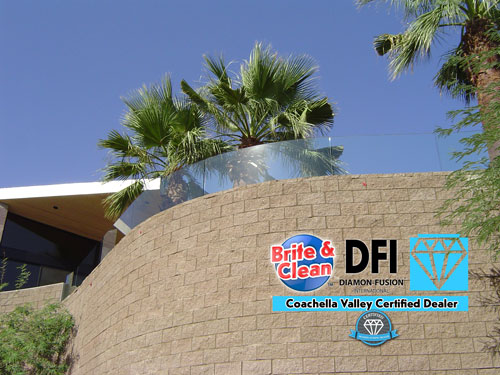 A durable and beautiful surface in the kitchen and bathroom, granite countertops need to be coated to reduce or prevent stains caused by penetrating water or other organic material, dulling the color and look of the naturally resilient, yet porous surface.
Granite Countertops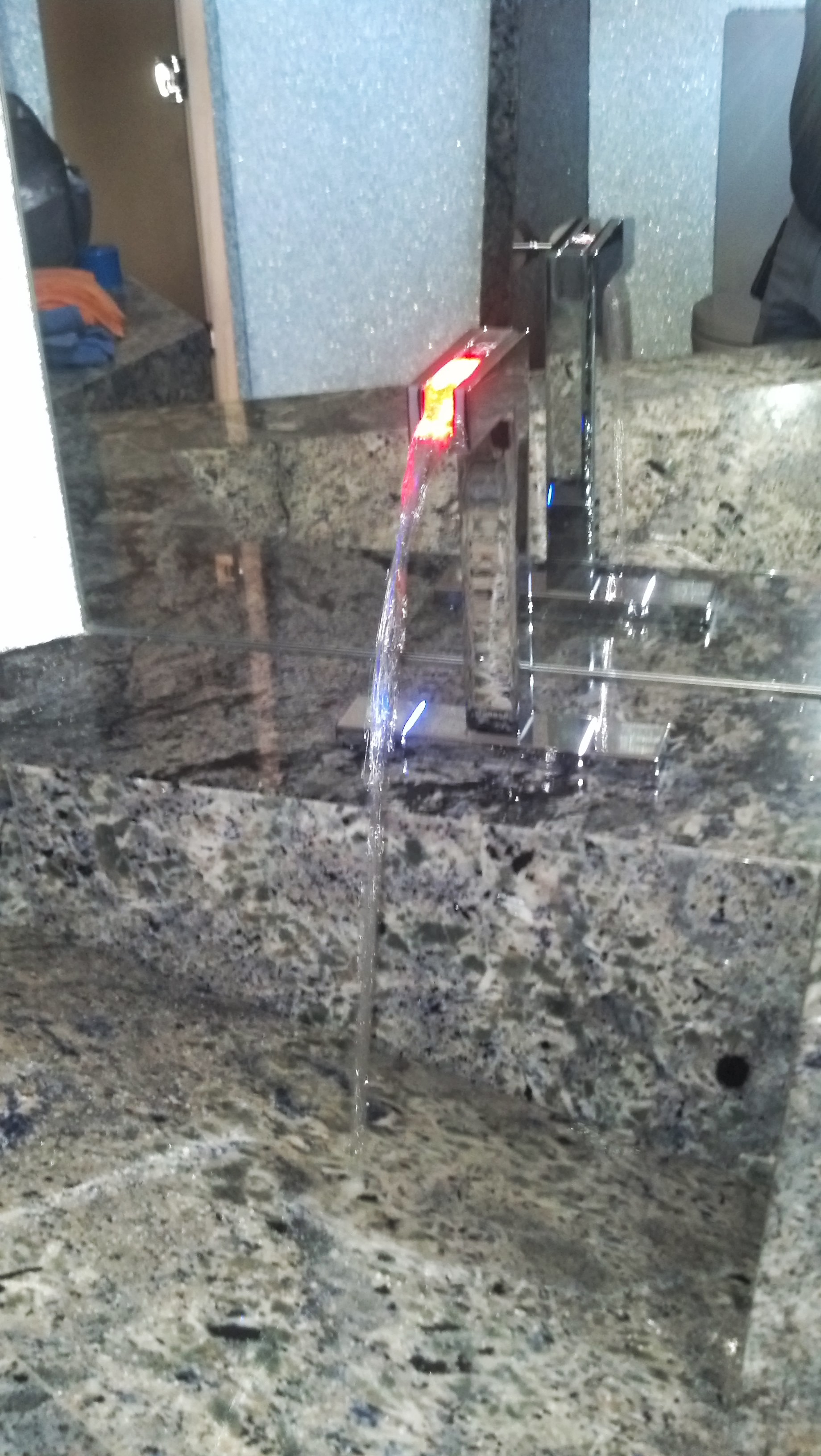 Another surface used in the home, and often abused by object being dragged across and causing scratches, are glass table tops. Surfaces coated with Diamon-Fusion® have a 10x more resistance to scratching damage (and pitting and rock chip damage too).
Frosted glass is an effective way to supply the benefit of natural light to an interior room while also providing privacy to obscure other's view. Often this sandblasted glass is very succeptable to finger prints and other oily stains caused by frequent touching.
Frosted Glass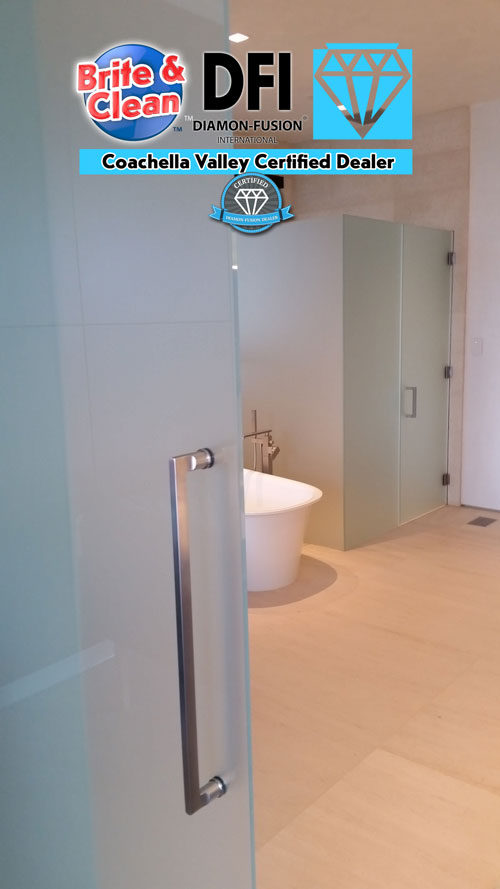 Outside the home in the back yard and often at many commercial and homeowner association properties, swimming pools and water features with tile surfaces will benefit if coated with the Diamon-Fusion® process. Hard water stains begn to rapidly accumulate on these water features and require hard water stain restoration prior to the application of the protective coating.
Swimming Pool Tile