Easy-clean Skylights
Keep skylights looking clean for longer, reduce maintenance frequency between cleanings and increase your savings!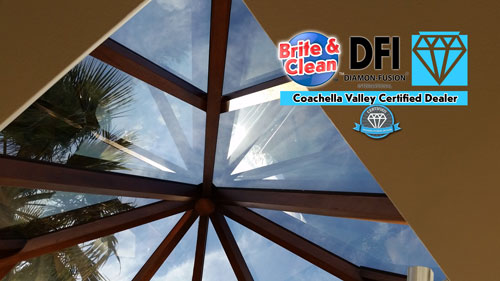 Glass skylights supply generous amounts of natural light which has been proven in numerous research studies to improve the overall well-being of the participants in the studies. Real life parallels the laboratory and following decades of work in the glass cleaning profession, this owner can personally testify to the difference it makes in the general good feelings and positave customers reactions when more natural light is present and coming through cleaner and more brilliant glass.
But like all good things, there's a catch ... the near-horizontal positioning of the glass causes dust to accumulate on the surface in an accelerated manner. When natural condensation occurs over-night, a rain storm or a dust storm blown in, the skylights become generally, quite a mess.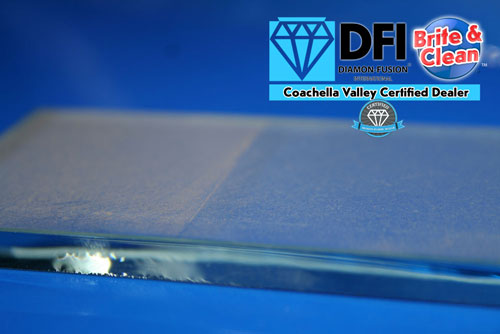 The dust blocking properties of skylights treated with theh Diamon-Fusion® process helps to keep them looking cleaner than regular untreated skylight glass. The glass on the left hand side of the samples is much dirtier than the coated glass on the right hand side of the sample. While both did get dirty over time, certainly the coated glass is much cleaner from a simple visual inspection.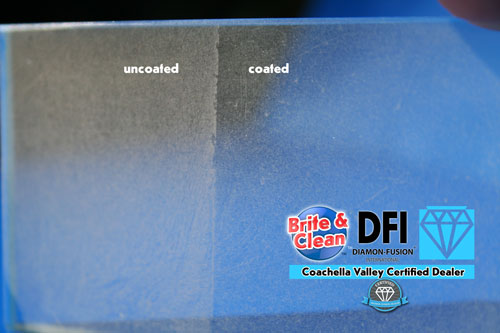 Glass coated with the Diamon-Fusion® process exhibits a hydrophobic property and causes water to repel from the surface, making cleaning much easier.